I am at the Kings Cross Station. Witches and Wizards keep bumping into to me. They are without robes. I am without a robe. Naughty bits are bouncing across my face, my spectacles have become foggy with heat, and my chastity belt appears to have gone missing. My hands reach out, but NO, NO! You musn't touch, Goyle!!

FOR I AM, GREGORY GOYLE. BORN AGAIN JUNIOR DEATH EATER. MY CARESSES ARE ONLY FOR THE DARK LORD. MY FRENCH KISSES ARE FOR HIS LIPS ONLY AS IS FOR HIS NOSELESS NOSEHOLE.



Weasley #7 in her Prime v. Now: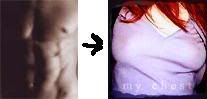 WHAT
HAPPENED
TO YOU, WEASLEY #7?! Now that I have seen you in the nudders, I see that your pecks have become so hideously
large
and TONELESS. I can cup them, and they would easily
overfill in my hands
. Ew! They are too soft and too tender! I can feel my hands
rotting off
just imagining it!! AHH! AHH!
AAAHHH!
...But no offense. BFF4Ever! ♥